Local Creator Spotlight - 'Diary of a First Gen Journey' Podcast - Anyelis Cordero & Sara Diaz
•
Posted on July 06 2022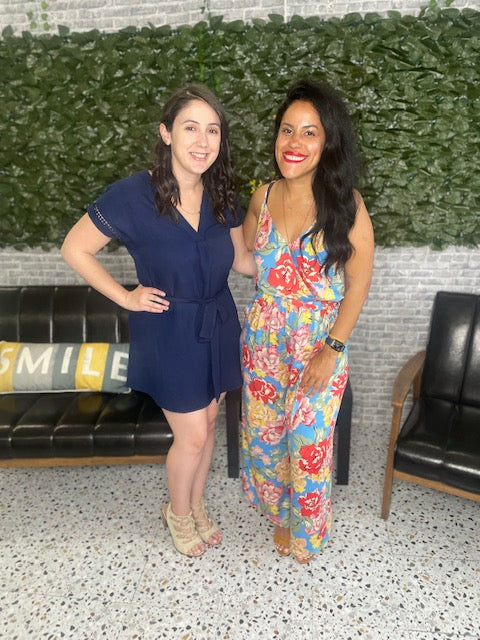 As a minority-cubana-owned business, we know first hand how hard it is to come across support of any kind when it comes to navigating the murky underworld of commerce and capitalism. Especially the unholy grail of the fashion business, which can cause Cuban families to look at you like you like a medusa trying to path herself off as human.  In the face of doubt and scrutiny however, this little Latina can pony up and put on a grand show, no sweat about it. As a female, latina entrepreneur I naturally gravitate toward and love to surround myself by other like-minded women. 
I was first introduced to Anyelis Cordero through her Tech-Entrepreneur and First-Gen Latino life partner, Jose Espinoza, of Brand Lab Experience.  Anyelis is as bubbly and sparkly as a freshly poured glass of prosecco, just how we like our girls. Her bubbliness though, however, should not overshadow her intellect and vision which she is using to pave the way for other first gen Cuban youth. She is a board member and chair-worman of the leadership development committee of the local non-profit organization Caale, which stands for 'Cuban American Alliance for Leadership and Education'. Their mission according to their website 'is centered on supporting education within our community, in all of its forms. This mission takes root in three pillars, through which we fund our own merit-based college scholarship, administer a leadership development program, and facilitate cultural education.' 
Anyelis, along with her also first-gen Cuban Co-Host, Sara Diaz, have started the "Diary of a First Gen Journey" podcast on spotify. They will be interviewing other local power players in the latino community and discussing all things that come with the first-gen experience: imposter syndrome, loneliness, pressure from family and mental health +more. They have created safe space to openly air out all of the challenges that Latino youth experience and will be sharing knowledge/support and resources to all those who tune in.
You can visit the Podcast page on Spotify here: 
LINK TO 'DIARY OF A FIRST GEN JOURNEY' PODCAST
Sara Diaz & Anyelis Cordero at the Podcast Launch Party

Valerie Duardo & Anyelis Cordero